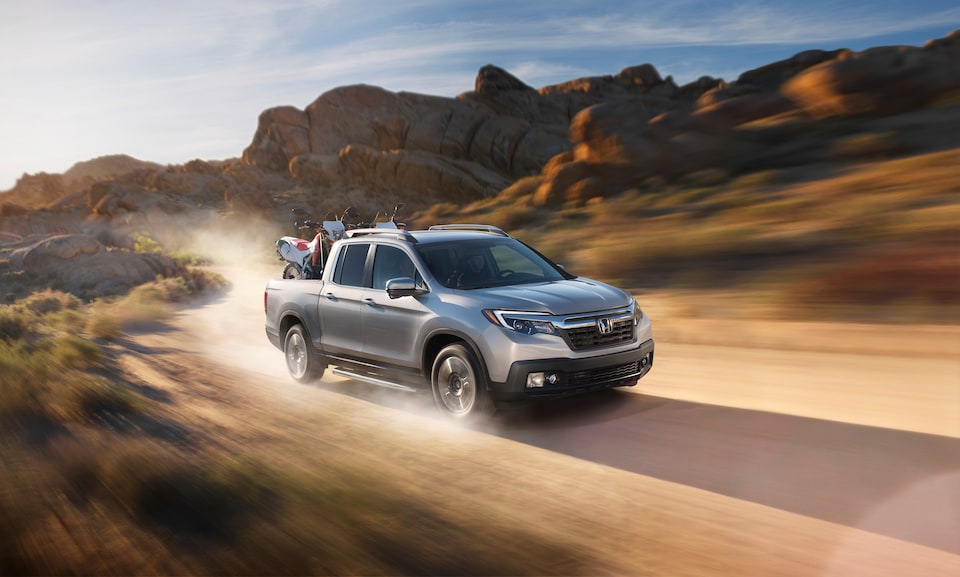 The 2019 Honda Ridgeline is Everything a Groton, CT Truck Owner Could Want
If you live around New London CT or Waterford CT and find yourself in need or want of a next generation truck, the 2019 Honda Ridgeline is the right call. Freshly designed and newly innovated, the Honda Ridgeline delivers on all the things that matter in a pickup; power, capability, and utility.
Powertrain:

The 2019 Honda Ridgeline comes standard with a 3.6-liter V6 engine on every trim level. It is paired with a six-speed automatic transmission and features both front-wheel-drive and all-wheel-drive models.

Specs:

The Ridgeline is a capable truck that gets 280 horsepower @ 6,000 rpm and 262 pounds-foot of torque at 4,700 rpm.
Your gas mileage will vary slightly depending on whether you're using front-wheel-drive or all-wheel-drive models as you can expect 19 mpg in the city and 26 mpg on the highway with front-wheel-drive and 18 mpg in the city and 25 mpg on the highway with all-wheel-drive.
Payload capacity is slightly variable depending on the trim level, topping out at 1580 pounds on the all-wheel-drive model of the Sport trim. Base level payload is 1447 pounds on the front-wheel-drive models.
Towing capacity on the Ridgeline is 3,500 pounds on the front-wheel-drive models and 5,000 pounds on the all-wheel-drive models.

Exterior:

One of the best parts about the 2019 Honda Ridgeline is in its trunk and tailgate design. Where most tailgates fold down, the Ridgeline comes with a Dual-Action Tailgate, which can swing open like a door on top of the standard fold down.
Ridgeline owners can also upgrade their truck bed to include built-in speakers.
What's more is that the Ridgeline comes with an exclusive lockable trunk with drain plug, allowing owners an unprecedented level of utility.
With a layered bedliner made from textured composite polymer, you'll have all the durability you need for the toughest jobs (or biggest toys) every time.

Interior:

The Ridgeline is designed just as intuitively on the inside as it is the outside. Owners can customize their cabin with an available eight-inch display audio touchscreen and ambient LED lighting.
Behind the steering wheel, drivers will have all the data they need on a 4.2-inch multi-information display while being able to leverage easy-to-use controls that sit prominently on the steering wheel.
Every Ridgeline comes with an advanced Push to Start function, allowing you to not have to clumsily fumble with your keys.
The Ridgeline's center console has been designed with space in mind and is large enough to accommodate a 10-inch tablet.

Safety Features:

The Honda Ridgeline comes packed with over 60 different technological and safety features. This includes Blind Spot Visibility which sends the driver an alert when a vehicle is approaching you. This way your rush hour commute can go a lot smoother.
Honda LaneWatch is another safety feature that helps expand your ability to be aware of your surroundings. When you activate your right turn signal, a small camera automatically activates to display a live video feed directly to your display screen. It gives a much wider view than the traditional side mirror, empowering you to change lanes with confidence.
The Ridgeline also comes equipped with a multi-angle rearview camera, making it easier for you to backup when you've got a trailer hitched to your truck.

Trim Levels:

The Honda Ridgeline comes in six different trim levels. The base level is the RT and comes standard with the Dual-Action tailgate, and the In-Bed Trunk. From the trim levels go to Sport, RTL, RTL-T, RTL-E, and the Black Edition.
You can test drive any trim level of the Honda Ridgeline at Cardinal Honda today. We offer competitive finance and leasing options to our customers in Norwich CT and Westerly RI. We offer a wide range of new and quality used vehicles, so we look forward to seeing you whenever you're ready.